A California district attorney said Gov. Gavin Newsom has blood on his hands for the death of a Selma police officer, sparking a war of words with the Democratic governor who said she should "blame herself" for the young officer's death.
Gonzalo Carrasco Jr., a 24-year-old officer with the Selma Police Department, was allegedly gunned down by a released convict on the job Tuesday. Authorities have identified the suspect as 23-year-old Nathaniel Dixon.
In a statement Tuesday, Fresno County District Attorney Lisa Smittcamp blamed Newsom for Carrasco's death, as well as "every legislator in the state of California who supports this over-reaching phenomenon they try to disguise as legitimate criminal justice reform."
Smittcamp said the suspect is an admitted gang member and was sentenced to 5 years and 4 months in prison in March 2022 for "charges related to robbery, weapons, and drugs."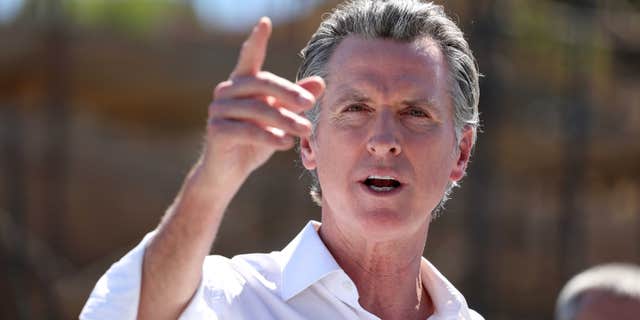 GAVIN NEWSOM CLINGS TO TIKTOK ACCOUNT AFTER MOST STATES, CONGRESS BAN CHINESE-OWNED APP
"However, because of laws passed in the last few years that give additional credits for time served in local jail, and other new laws which allow for arbitrary 'accelerated time credits' upon entry to the prison system, his release date was set for August 23, 2022, a mere 5 months after his original sentence," Smittcamp said. "He was eventually released in late September 2022 and placed on Post Release Community Supervision when he should have been serving more time in prison."
"The Governor and certain members of the California legislature have created a warped system that allows active and violent criminals to receive arbitrary 'time credits' in an effort to reduce the state prison population to reach their goals of closing more prison facilities," she continued. "The Governor and his political allies who continue the quest to close state prisons are increasing the incidents of violence to everyone who lives in, or visits, the state of California. No city or county is safe from the wrath of this misguided thinking, and this mismanaged prison system."
Newsom was asked to respond to Smittcamp's statement during a scheduled press conference on gun reform Wednesday, when he pointed the finger back at the D.A. for her handling of Dixon's case.
"She should blame herself," he said. "I've been listening to this for years from her. She has the prosecutorial discretion. Ask her what she did in terms of prosecuting that case. I'm sick and tired of being lectured by her on public safety. Sick and tired."
"So, with all due respect to her statement, she should be ashamed of herself, and she should look in the mirror," he added.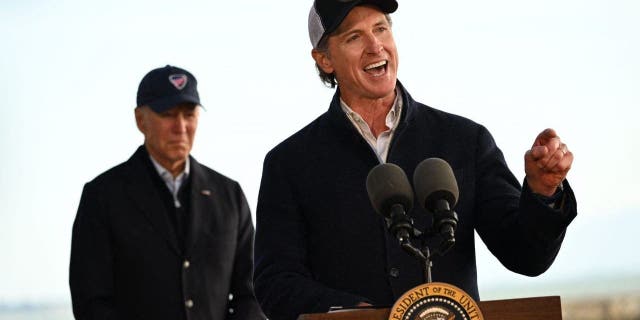 CALIFORNIA GAS-POWERED LAWN EQUIPMENT TOPS LONG LIST OF THINGS BANNED BY NEWSOM
Smittcamp fired back in another statement Wednesday. 
"Governor Newsom continues to demonstrate his ignorance and lack of understanding of how the criminal justice system works," she said. "His arrogant and defensive response is proof positive that he is attempting to deflect responsibility for his failed policies, but he also proves, once again, his lack of understanding of the sentencing structure and process in which criminal cases are handled in the Superior Courts of the State of California."
"As he often does, Governor Newsom failed to answer the question posed to him," she continued. "He is the biggest proponent of the early release of criminals, and enhanced time credits for inmates and regulations allowing additional accelerated time credits to be arbitrarily granted to inmates when they are sentenced to prison. These policies are a constant threat to public safety."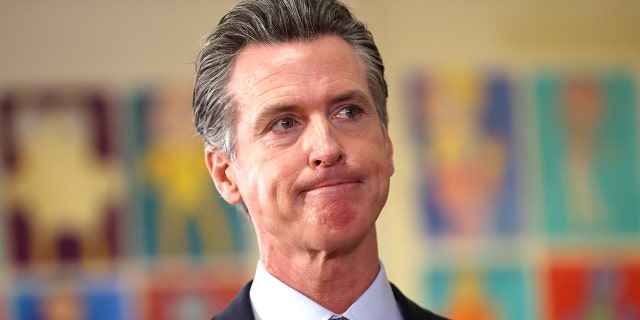 Smittcamp invited Newsom to her office for a "discussion regarding his policies." 
She also said she supported a Republican-led initiative in the California Assembly, AB 15, which would provide that Department of Corrections and Rehabilitation records pertaining to an inmate's release date and their early release credits are public records and are subject to disclosure under the California Public Records Act.
CLICK HERE TO GET THE FOX NEWS APP