CNN
 — 

A man who assaulted United States Capitol Police Officer Brian Sicknick with pepper spray on January 6, 2021, was sentenced on Friday to 80 months behind bars.
Julian Khater pleaded guilty in September to two counts of assaulting, resisting or impeding officers with a dangerous weapon. His co-defendant, George Tanios, pleaded guilty last summer to disorderly conduct and entering and remaining in a restricted building. Khater was also ordered to pay a $10,000 fine and $2,000 in restitution.
Tanios was sentenced to time served and one year of supervised release. He previously spent more than five months behind bars.
The day after the attack, Sicknick died after suffering several strokes. Washington, DC's chief medical examiner, Francisco Diaz, determined that the officer died of natural causes and told The Washington Post that the riot and "all that transpired played a role in his condition."
Sicknick's family and partner were present for the sentencing and law enforcement officers dressed in uniform filled the courtroom.
According to the plea agreements, Tanios bought two cans of bear spray in preparation for his trip with Khater to Washington on January 6. During the Capitol attack, when the two men arrived near a line of police officers by the steps of the Capitol, Khater said to Tanios, "Give me that bear s**t," according to the plea.
Khater took a white can of bear spray from Tanios's backpack, walked up to the line of officers and, as rioters started pulling on the bike rack barrier separating them and the police, Khater sprayed multiple officers – including Sicknick – who had to retreat from the line.
One of those officers, Caroline Edwards, gave a witness impact statement before DC District Judge Thomas Hogan during the sentencing hearing.
"I felt like the absolute worst kind of officer, someone who didn't help – couldn't help – their friend," she said of not being able to help Sicknick after being sprayed herself seconds later by Khater. "Sometimes when I close my eyes I can still see his face, white as a sheet."
Hogan called Khater's actions that day "inexcusable," adding that "three officers (who) were doing their duty … are suddenly sprayed directly in the face."
"I'm not going to give a lecture on the riot," Hogan said, adding that "every time you see the video you're shocked over again" and that "something has come out of this country that is very, very serious."
After recovering from the bear spray attack, Sicknick continued to help protect the Capitol that day, according to court documents, remaining on duty until late into the evening.
"Just before approximately 10:00 p.m., Officer Sicknick began slurring his speech while talking to fellow officers," court documents state. "He slumped backwards and lost consciousness, and emergency medical technicians were summoned for assistance. He was transported to the George Washington University Hospital where he remained on life support for nearly 24 hours and was pronounced dead at 8:51 p.m. the following day."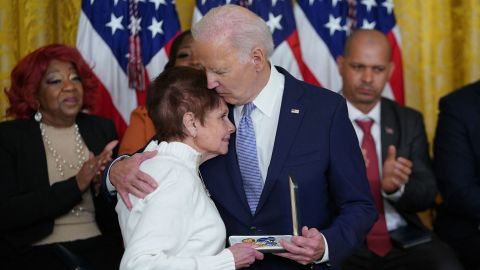 Khater's defense attorney said that Hogan should not sentence his client for the death of Sicknick, which the attorney noted was determined to be of natural causes. The judge agreed, noting he "can't sentence Mr. Khater (for) causing officer Sicknick's death."
Calling his client "sheepish" and "sweet and gentle," Khater's attorney said his actions that day amounted to seconds of "emotionally charged conduct" from a man who suffered from anxiety.
In his statement to the judge, Khater began by highlighting how long he had already served behind bars and how it had "taken a huge toll" on him. "I wish I could take it all back," he said. "It's not who I am."
Hogan pressed Khater on why he did not expressly apologize to the officers in the courtroom and Sicknick's family. "Somewhere along the lines we lost the sense of responsibility," the judge said.
"It's the elephant in the room," Khater said, adding that "there's a civil thing going on" – in reference to a civil lawsuit from Sicknick's estate – and that his lawyer had warned him about what to say in court Friday.
"You should be afraid," Hogan said of the lawsuit.
Sicknick's partner, Sandra Garza, had asked the judge to impose the maximum sentence for both men.
"I realize it will not bring back Brian, nor give him peace in his last moments on earth, but it will give some sense of justice in my universe," Garza wrote to the judge.
"The only thing that surpasses my anger is my sadness," Sicknick's brother, Kenneth, wrote in his statement to the judge. "Sadness that the only time I can communicate with Brian is to speak into the nothingness and hope that he is listening."
Kenneth continued, "Brian was never one for the spotlight. He preferred to go about his business, not bringing attention to himself. My family and I quietly smile at each other when we attend an event honoring and remembering Brian and the weather turns bad. We know it's Brian telling us that it is OK, he is OK, please don't make a big deal about me, take care of the others that need it. That's what he would have done."
This story has been updated with additional details.