FORT WORTH, Texas – Freezing rain has caused dangerous and icy conditions on many roads in North Texas. Here's an overview of what drivers are dealing with throughout the area.
FOX 4 Weather Meteorologist Evan Andrews said temperatures will stay below freezing all day Tuesday and there's more precipitation in the forecast. That means anything that falls will stick to the roadways and turn to ice.
"This is one of those situations where if you are sitting home and you're watching, just hang there. It's going to probably get progressively worse as the day goes on," he said.
MORE: Winter Storm Warning for North Texas extended until Thursday
Follow below for live updates on the Dallas Winter Storm. Mobile users click here.
Tarrant County
Dozens of people in Fort Worth had to be sent to the hospital Monday after freezing rain caused many car crashes.
MedStar officials said within the past 24 hours, its crews have responded to more than 142 crashes including 16 rollovers. Eight people have been treated for hypothermia. Seven of them were taken to area hospitals and five are in serious condition. Nine other people were injured in serious falls after slipping on the ice.
The Texas Department of Transportation has treated many of the major roads in the area with brine, but there are still some dangerous areas such as a strip of Highway 114 near Interstate 35W.
Semi-trucks are stuck on the road near Texas Motor Speedway and there is a major traffic backup behind them.
People traveling through North Texas from out of state were surprised by the weather. The Campbells are making their way to Daytona Beach, Florida.
"We had no idea. When we left Branson, it was sunny and warm. And when we got to Tulsa it turned cold," Richard Campbell said.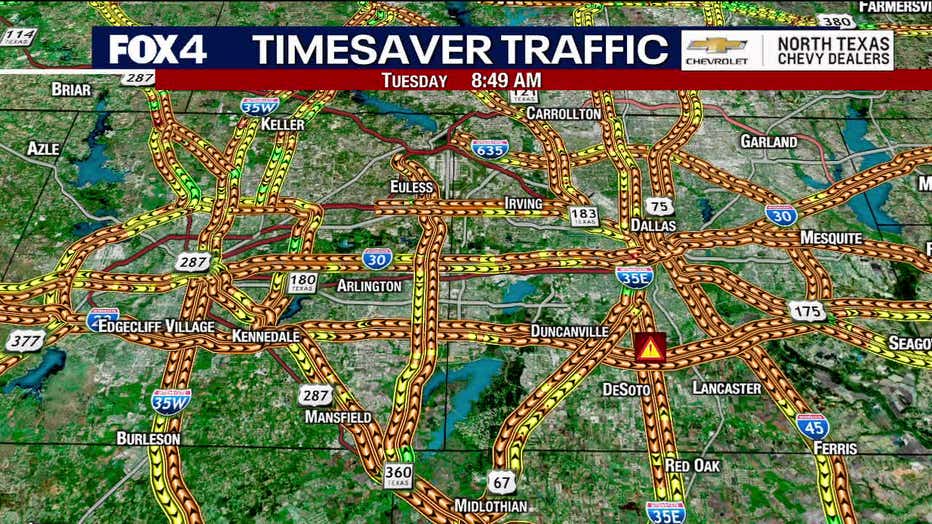 Chip Waggoner's traffic map was all red because of the many accidents in North Texas around 9 a.m. Tuesday.
Gerardo Gutierrez drives for Uber and Lyft. He shared a bit of advice for those who absolutely must be out on the roadways.
"They want to drive like it's dry outside and it's not," he said. "I just take my time. We get there when we get there."
RELATED: Ice on I-20 causes 20-mile traffic backup in Palo Pinto and Parker counties
Denton County
It took FOX 4's crews nearly two hours just to get from Dallas to Denton because of the ice on the roads. There were a lot of stalled vehicles along with way with tow trucks and wreckers trying to get them out of the roadway.
In Lewisville, an 18-wheeler slid on some ice on southbound Interstate 35 and went over a guardrail.
Half of the rig ended up on one side of the guardrail and the other half was on the other side, next to the support of the overhead sign.
Crews moved the sign to the service road. They still need to check on the structural integrity of the sign.
The service road remains closed at Business 121.
The FOX 4 crew also witnessed several 18-wheelers get stuck on a bridge near the Denton Buc-ee's. Another semi slid backward and blocked traffic. State troopers had to direct traffic to get around that semi.
RELATED: Icy roads cause several crashes, stalls traffic across North Texas on Monday 
Dallas County 
The city of Dallas says it has about 42 sanding trucks out treating bridges and major roads, but some people are still going the extra mile to help people who got stuck.
Realtor Patrick Abell from Garland drove around Dallas County in his Jeep on Tuesday with the purpose of giving folks a helpful pull.
Hounan Reyes stopped to help the driver of an 18-wheeler get free from the ice. It worked, but his truck got stuck in the process.
Kevin Deras, the driver of the 18-wheeler, looked to return the favor.
"We're going to have to scrape a little bit of ice from under those tires so he can gain some traction," Deras said.
He dug at the ice, but the street was too slick to get Reyes out.
That's where Abell and his Jeep came in.
"Just out having fun. I've been picking people up taking them to work checking on houses, doing what we do," he said.
Abell and his Jeep were able to get the big truck moving.
Abell said he helped 25 people on the roads.
"I'm a real estate agent, just out playing because I can't show houses," he said.
People getting stuck on the roads was common on Tuesday and Abell was not the only Good Samaritan helping out.
"I go to try to pull into Burger King, and he was kind of like broke down right here," said Greg Foster. "I'm just like I'm going to pull over and try to help this guy."
Foster pulled over to help Andre Owens' Chevy Silverado, which was stuck in the ice.
Driver dies after going 'airborne' off icy Arlington overpass, witnesses say
"I'm just trying to go around this curb right here, and I got stuck," said Owens.
Foster was eventually able to get Owens free.
"Being a Good Samaritan he came and helped me out, so I'm very appreciative of that," Owens said.
Collin County
The pre-treated highways like the Central Expressway and Dallas North Tollway between Dallas and Plano were okay early Tuesday morning. But they are starting to get icy now that it's sleeting again. 
FOX 4's Hanna Battah said the tollway is now coated with a layer of ice. The driver in front of her had his hazard lights on and everyone is taking it slow.
On Monday, dozens of drivers were involved in a pileup crash in Plano on the Central Expressway exit ramp to Plano Parkway.
Driver Varshil Parikh said he was traveling about 35 miles per hour when he crashed into a FedEx truck. 
"I tried to break, but I couldn't," he recalled. "So, I just tried slamming the brakes. Stop. Slamming the brakes. Stop."
Plano firefighters said from that point it was one vehicle after another. Thankfully, no one was seriously injured.
Further north near McKinney, traffic conditions are a bit worse. Only one lane of traffic was getting by on Hwy. 75 just south of the Hwy. 121 merge near Anna and Melissa Tuesday morning.
All TEXpress managed lanes in the area remain closed because of the inclement weather. 
Live Traffic Conditions
For the latest traffic updates, download the FOX 4 Fastlane app or follow Traffic reporter Chip Waggoner on Twitter.