A southern California police department is facing national backlash after footage revealed that officers fatally shot a double amputee and wheelchair user who appeared to be hobbling away on the ground before he was killed.
Anthony Lowe, 36, was killed by officers in Huntington Park, a city in southern Los Angeles county, last Thursday. Cellphone footage captured part of the incident, showing Lowe on a sidewalk next to his wheelchair appearing to try to flee as two officers approach him with weapons drawn. More police cars arrived as the officers followed Lowe, who seemed to be limping away, but the video did not capture the shooting.
Now, Lowe's family is calling for officers to be terminated and face murder charges.
"I'm heartbroken, and filled with anger and rage," Tatiana Jackson, his younger sister, told the Guardian on Tuesday. "I just can't understand why they would do that to someone in a wheelchair. I want somebody to explain to me what was the reason that you had to gun down a guy who has no legs."
Lowe was a father of two and one of eight siblings in a tight-knit family, and he'd been struggling recently after he had to have both legs amputated, his family said.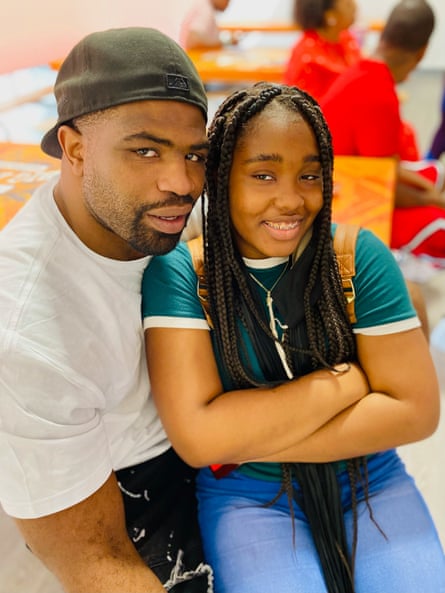 The circumstances preceding the killing are unclear, and officials have faced scrutiny as their narrative has appeared to shift. The Huntington Park police department said in a statement that officers were responding to reports of a stabbing allegedly committed by someone in a wheelchair at around 3.40pm on Thursday, and that they encountered Lowe, who was in a wheelchair and who they believed was the suspect.
The department claimed that officers attempted to detain him, alleging he ignored commands and "threatened to advance or throw the knife at the officers", although the limited witness footage did not capture this. The department further said that officers "deployed two separate Tasers in an attempt to subdue the suspect", but when "the Tasers were ineffective", they shot him. He was pronounced dead at the scene.
The LA sheriff's department, which is investigating the killing, said in an initial statement that Lowe attempted to "throw the knife at the officers", but a spokesperson later told the LA Times that Lowe "did not throw the knife ultimately, but he made the motion multiple times over his head like he was going to throw the knife". The spokesperson also said that two officers had fired roughly 10 rounds at Lowe, who was hit in the torso. The Huntington Park department does not use body cameras.
The case comes amid national protests over police violence in the US following the fatal beating of Tyre Nichols, 29, in Memphis. In Los Angeles, there have also been demonstrations this month over a string of killings by the LA police department, including the Tasing of Keenan Anderson, the cousin of a Black Lives Matter co-founder.
'He was scared'
Advocates and Lowe's family said the Huntington Park case illustrated how quickly police escalate situations and resort to lethal force. The video does not show any civilians near Lowe as he tries to hobble away, and he also appears to be at a distance from the officers.
Police have said that they found a stabbing victim who was taken to the hospital, but Lowe's family said they were skeptical of law enforcement's story.
"He was running away from them as if he was scared for his life," said Ebonique Simon, the mother of Anthony's son, who said that he might have had a knife on him for protection. "This could have been handled in any other way. But they chose gunfire as the resolution to the problem. That is insane … The police are supposed to be upholding the law, and we're supposed to trust them with our lives, but how can we, if they do something like this?"
She said it seemed as if police were trying to present him as a violent and dangerous person so there would be less outrage: "They thought this man had no family and that they could sweep this story under the rug. But I'm not going to let it go until there is justice for my son." Their son, who is 15, has been devastated by the footage, Simon said: "How is a child going to feel about police now that you've gunned their father down?"
Sylvester Ani, an LA activist who has helped families of people killed by police, said the case was a reminder that officers can create danger instead of protecting people: "The way they are trained to do the job is to kill people. That is not about safety. This man was a double amputee, but they felt the need to shoot him. They didn't do that because they had to, they did that because they didn't care about his life. Anthony should still be alive."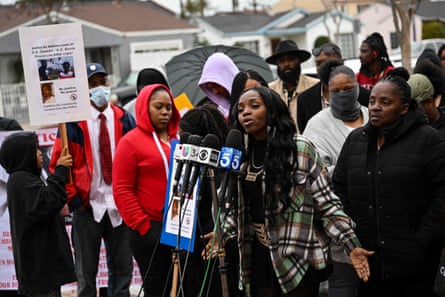 The spokesperson for the LA sheriff's agency, which has its own track record of police violence and misconduct scandals, told the LA Times that the officers who fired at Lowe were on leave "for a few days", would undergo a psychological evaluation and would be assigned to administrative duties until they were approved to return to fieldwork.
Cliff Smith, an organizer supporting Lowe's family, said that statement suggested the sheriff's agency had already exonerated the officers: "There can be no confidence in the sheriff's department investigating any other police agency, because their own house is a mess."
The sheriff's department declined to comment, referring questions to the Huntington department, which did not respond to an inquiry on Tuesday.
'He brightened your day'
Jackson, Lowe's sister, who is 34, said that even though they were two years apart, they often felt like twins: "You could be having the worst day ever, but as soon as you come across him, he'd brighten your day. He was a family man who cared for all of his family and treated his friends like family."
Jackson said her four-year-old daughter adored Lowe and didn't understand that he was gone. Her daughter had noticed that her mother was in pain and had suggested she talk to Uncle Anthony to feel better: "She doesn't understand why I'm crying. Anytime we're going through something, my brother and I would call each other. And my daughter keeps saying, 'Call Uncle Anthony.' But he can't fix this."
The killing would have a ripple effect in the community, she added: "If we're in danger, do you think these kids will call 911? They're not going to, because they're afraid."
Lowe's family said he had been living in Texas when his legs were amputated, but they did not know the specific circumstances. He had come back to California in recent months.
Simon said Lowe had been proud of their son's success in football and had helped him stay motivated, and that she was struggling to process that he wouldn't be there for graduation. She said Lowe had also loved to dance, and she believed he had been facing mental health challenges and depression due to the amputations. But she had hoped his life would soon start to improve.
He had recently been approved for prosthetics, she said, and had an appointment scheduled for February.