The Jan. 6 rioter who attacked fallen Capitol Police officer Brian Sicknick with pepper spray was sentenced Friday to 6 years and 8 months in prison.
Julian Khater, 33, of Somerset, New Jersey, pleaded guilty last year to assaulting officers with a dangerous weapon.
According to court records, Khater maced at least two officers that day at close range as a mob of rioters pulled down metal police barricades on the west front of the U.S. Capitol complex.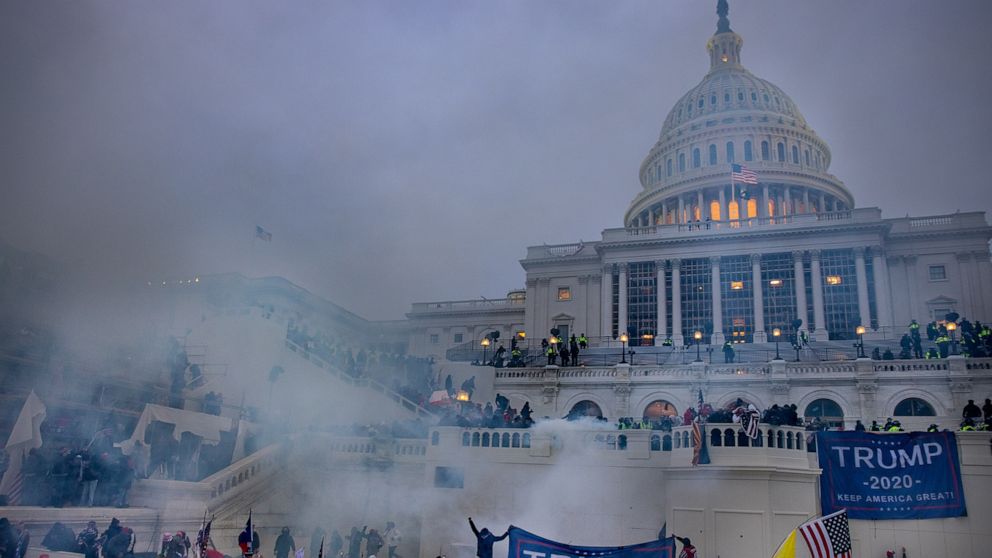 The Washington, D.C., medical examiner found that Sicknick died the next day of natural causes, but the events of the day may have contributed to his condition. As a result, Judge Thomas Hogan noted he could not sentence Khater for causing Sicknick's death.
Hogan said Khater will get credit for the year and 10-plus months he has spent incarcerated so far, in part due to prison conditions that the judge described as a "disgrace."
Before receiving his sentence, Khater addressed the court, saying he has spent significant time soul-searching, reading and praying.
"This has been a long, agonizing, but humbling experience that has taken a huge toll on me," Khater told the judge.
The judge called Khater's lack of direct apology to the officers a "self-centered" approach. Though Khater said his attorney had advised him against a direct apology, noting that a civil case had been filed against him.
Dozens of Capitol Police officers attended Friday's sentencing in support of their fallen colleague. Sicknick's family, along with Officer Caroline Edwards, who was near Sicknick and also maced by Khater, provided emotional statements to the court about their loss.
"I thought I would be happy when this day came – when justice would be served," said Edwards, struggling to hold back tears while explaining the emotional trauma she experienced with the loss of her friend and colleague.
Edwards described feeling as though she had failed as an officer due to her incapacitation and inability to help.
Sicknick's mother addressed Khater directly, calling him an "animal" and explaining the enduring stress the entire family has been under.
"You are center stage in our recurring nightmare," Gladys Sicknick said.
Khater's defense attorney, Chad Seigel, called his client's actions "a moment of clouded judgment."
"His emotionally charged conduct was an aberration," Seigel said.
Prosecutors requested 90 months for what they described as Khater's "cowardly and pre-meditated assault" on law enforcement officers. Hogan decided on 80 months minus the 22 months he has already served.
This is a developing story. Please check back for updates.