LOS ANGELES — The death of a double amputee wielding a large knife whom police shot in Huntington Park, California, has sparked a national outcry against the use of force against a disabled person.
Police say Anthony Lowe, a Black man who lost both his legs last year and had not yet received prosthetics, stabbed a person last Thursday before they used a stun gun and shot him about 10 times throughout his upper body.
Lowe's family questioned why it was necessary to kill a man who needed a wheelchair to get around.
"I want to achieve truth and justice, because if anybody else would have shot Anthony, with him being a disabled person, they would be in jail now for murder," said Ebonique Simon, the mother of Lowe's 15-year-old son. "They wouldn't be out taking leave with pay."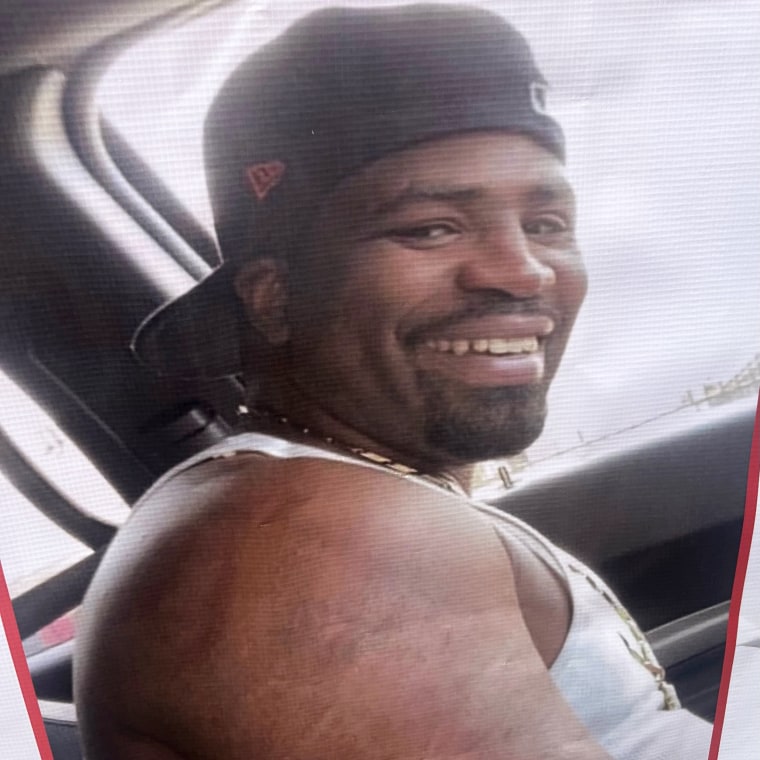 Lt. Hugo Reynaga of the Los Angeles County sheriff's homicide unit, which typically investigates officer shootings involving Huntington Park police, said the stabbing victim was a 46-year-old man who is stable in a hospital, awaiting surgery. Huntington Park police are preparing a report on the incident, Reynaga said Wednesday. 
Huntington Park police declined to comment on Lowe's death or say what happened before the encounter because the shooting is under investigation.
The officers involved in Lowe's death, who have not been publicly identified, have been placed on paid administrative leave pending the outcome of the investigation, Huntington Park police said in a statement. 
Lowe's relatives said they have been given inconsistent information since they learned of his death. Police told the family they had assumed Lowe was homeless, but he had been living with his mother after having lost both legs, the family said. They were also told Lowe charged at police with a knife, but a witness' statement did not appear to support that, Simon said.
 "The whole world has seen that video now, and that's not what happened," she said. "I don't even want my son to pick up his phone. I don't want him to see the videos."
Grainy cellphone video shared on Twitter shows Lowe, whose legs were amputated at the knees, leaving the wheelchair behind and scrambling along the sidewalk, followed by officers with their guns drawn. The shooting is not seen in the video, which does not show what led to the encounter.
Huntington Park police said in a statement that officers responded to a report of a stabbing victim on the afternoon of Jan. 26. The victim, who had sustained a collapsed lung and internal bleeding, said he was attacked by a Black man in a wheelchair, police said. 
"The suspect dismounted his wheelchair, ran to the victim without provocation, and stabbed him in the side of the chest with a 12" butcher knife," police said in the statement. "The suspect then ran back to the wheelchair and fled the scene in the wheelchair."
Officers later found Lowe nearby carrying a large knife and ignoring their commands, the statement said. He "threatened to advance or throw the knife" at police, who deployed two Tasers in an attempt to subdue him, the statement said. When that didn't work, Lowe was shot and died on the sidewalk, it said.
His family was not notified until the next morning, relatives said, even though Lowe was carrying identification with his mother's address.
Ed Obayashi, a national policing expert specializing in use-of-force investigations, who has watched the video on social media, said that to justify a shooting, officers must show they had been under immediate threat and had considered reasonable alternatives, including using a Taser.
"But here we see an individual that, by definition, appears to be physically incapable of resisting officers," he said." Even if he is armed with a knife, his mobility is severely restricted.
"He's an amputee. He appears to be at a distinct physical disadvantage, lessening the apparent threat to officers."
Lowe's older sister, Yatoya Toy, said her brother was scared of law enforcement and most likely fled in fear, much like Keenan Anderson, a Black man who cried out, "They're trying to George Floyd me!" during an altercation with Los Angeles police officers last month.
"George Floyd's murder really affected him," Toy said about her brother. "All this police brutality is why he ran. He feared for his life. He was terrified."
Anderson died after he was stunned six times following a traffic incident in Venice Beach. He died on Jan. 3 just hours before Los Angeles police shot and killed Oscar Leon Sanchez, who was experiencing a mental health crisis, relatives said. 
Both the Anderson and Sanchez families have filed claims against the city of Los Angeles, which has 45 days to respond and has declined to comment on the matter. Lowe's family says it intends to do the same against the city of Huntington Park and its police department.
Relatives described Lowe as a loving father and brother who never missed his son's football games and who had once enjoyed dancing.
He was the third of eight siblings and had been living with his mother after he lost both legs last year in an incident involving Texas police, family members said. They said they never learned the details of the encounter, what city it occurred in or what led to Lowe's losing his legs.
He had been scheduled to pick up his prosthetics next Monday.
"I don't know how police could make any excuse for feeling threatened by a double amputee in a wheelchair," said Melina Abdullah, a co-founder of Black Lives Matter-LA. "It's disgusting. It just shows you it seems to be open season on Black people."